The Buzzwire Game is the perfect event attraction to generate excitement about your business. It has proven to be a successful promotional marketing tool for trade shows, grand openings, and promotional events. Not only does the Buzzwire Game attract a large number of willing participants, it is also superb at grabbing the attention of crowds and creating a Buzz about your products and services.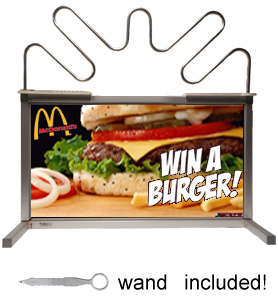 New Giant DELUXE Buzzwire Game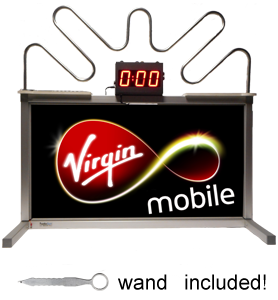 How the Buzzwire Game Works
Contestants must keep a very steady hand as they carefully navigate a circular wand around the bends and curves of the long wire.
The goal is to reach the other side of the machine without touching the wand to the wire. Should they fail, the Buzzwire Game will light up and alert the entire room with a loud Buzzing sound.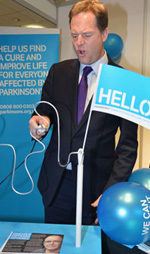 The Buzzwire Game is the ideal promotional tool for branding. The large front plate provides ample space to display your company's logo and message. Custom branding is created by our in-house design team. Supply us with your logo and message and we will deliver the Buzzwire Game directly to you emblazoned with your company logo. In addition, the custom plates are interchangeable so you can use the Buzzwire Game for multiple events and promotions at a low cost.
The portable, lightweight design of the Buzzwire Game allows for easy display and requires very little set up. This machine can stand alone and runs off a rechargeable power pack making it an ideal game for virtually any event!
The Buzzwire Game is the Ideal Promotional Attraction to:

Increase booth traffic at trade shows

Generate leads at marketing events

Stop traffic at any event


Amplify excitement of live remote broadcasts

Amplify excitement of live remote broadcasts

Draw attention at grand openings & sales

Drive Traffic to your dealership showroom